The weather is warmer and you're feeling the love! And of course, the perfect place to celebrate your love is outside, on an adventure. Colorado makes it easy to explore and woo your partner with beautiful landscapes, natural beauty, and plenty of places for a getaway.
Most areas in Colorado are easily accessible and there are lots of handi-capable trails and venues that allow anyone and everyone to enjoy being outside.
Here are our top places to venture out for a secret romantic adventure in 2022 that's off the beaten path:
12,100 ft above sea level
Best time to go: May to September
What and Where: Secret Mountain Picnics are a great to spend time with your loved one or celebrate your partner. In this exclusive, secluded, and extravagant picnic, you'll be pampered and have the opportunity to create a personalized adventure. A unique aspect of the Secret Mountain Picnics compared to some of the other hidden gems on this list is how far above sea level it is, giving you and your partner or group the true feeling of being in the famous "mile-high". Secret Mountain Picnics is in an undisclosed location in the mountains, giving you a chance to escape the hustle of the city.
What to bring: Yourself and your loved one! The Secret Mountain Picnic staff have a plan for your entire day or night, including the meals and a romantic foraging hike in the woods.
6726 ft above sea level
Best time to go: June 18 – Aug 7
Price: $30 per person per day
What and Where?: This middle-aged-themed festival in Larkspur, Colorado is a must-see. It has multiple themed weekends including Lovers weekend on the 23 and 24 of July, a sword-swallower, hypnotist, a storyteller, and many more strange people.
What to bring: A Rennaissance era costume (if you don't have one that is perfectly fine, they have an option to rent one) and some extra cash for food, water, and souvenirs.
Continental Divide Winery, Breckenridge
9600 ft above sea level
Best time to go: Anytime!
Price: $20-100 per bottle
Paired with wine tasting, the wine blending experience sets the stage for love that's a little more creative. You get to not only taste wine, but you also get to make a special wine that is unique to just you and your partner.
What to bring: Yourselves! You and your partner will be given all of the materials and will be put in your own room with a professional who will be able to explain to you the art of wine-making!
6500 ft above sea level
Best time to go: After June 30 when the water is free-flowing, before December
The only triple waterfall in Colorado, Rifle Falls is a one-of-a-kind natural location because triple waterfalls are extremely rare throughout the world.
What to bring: Your hiking gear – make sure you're prepared!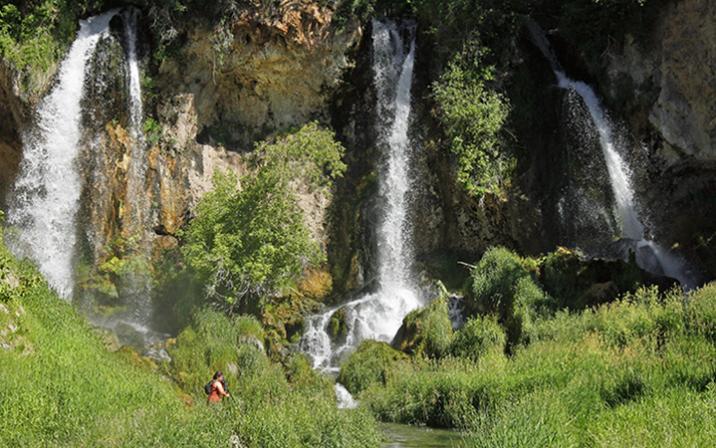 Crested Butte Wildflower Festival
8909 ft above sea level
Best time to go: July 8-17
Cost: $65 per activity and person
What and where: The Crested Butte Wildflower Festivals' main aim is to increase awareness and help preserve the Gunnison Valley's wildflowers. From Friday to Sunday, the event is held in Crested Butte, Colorado. Everyone will be able to participate in a variety of activities, such as art classes, garden tours, hiking, photography, and much more fun activities perfect for building stronger relationships with your loved ones.
What to bring: A snack and a water bottle.
5,288 – 7,100 ft above sea level
Best time to go: June to September
Cost range: $60-80 per person
What and where: AstroTours offers a customized astronomy tour in multiple locations around Boulder. The tours take place right off of a trailhead just north of Boulder. You can customize your tour to be on the top of the gondola or on the tubing hill. The great thing about Astro Tours Boulder is that you can email Luke from Astro Tours to have a five percent discount. Exploring Boulder is not only romantic but cost-effective.
What to bring: Yourself and your partner! The Astro Tours provide guests with red flashlights, camp seating, bug spray, snacks, and water.
5,288 ft above sea level
Best time to go: June 18 and December 3
Cost: $100-300 per person
What and Where: Boulder, Colorado hosts a 12th annual 1940's era ball this June. The ball has many activities for you and your partner to do, including listening to music from a few different orchestras, seeing an exhilarating new WWII air show, and playing roulette on the roulette table at Rick's Cafe Americain. The ball is extremely easy to find as it is in the Boulder Municipal Airport, so you will not be lost trying to find this great activity. If you miss the summer option, Boulder also has an exclusive winter ball.
What to bring: Your very best 1940s costume and some extra money for all the different food trucks scattered around the area.
11,670 ft above sea level
Best time to go: Fall / September-ish
Colorado's changing season from summer to fall is something to behold and many flocks from around the state and country to see the aspen trees famously change colors. There are many places to see the changing colors, but Guanella pass is one of the most well-known and close-to-Denver locations with a short 50-minute drive.
To get there: From Denver, take I70 W to 470 headed south. Take exit for 285S and continue south to the Guanella pass exit. Closeby trails are Bierstadt and Square Tops Lakes.
What to bring: Snacks, water, and Hiking boots.
9954 ft above sea level
Best time to go: Wild Food Girl holds classes throughout the summer
Cost: $50 per person
What and where: The Wild Food classes are a great way to spend time with loved ones who have a passion for learning and the outdoors. You will be able to experience the wilderness in a way you haven't before, as you will get to learn all about the plants that surround you in your everyday life and you will have a tasty meal that you and your partner can share! The Wild Food classes are located mainly in Fairplay, Crestone, and Del Norte, Colorado.
What to bring: A notebook and pen, and some water.